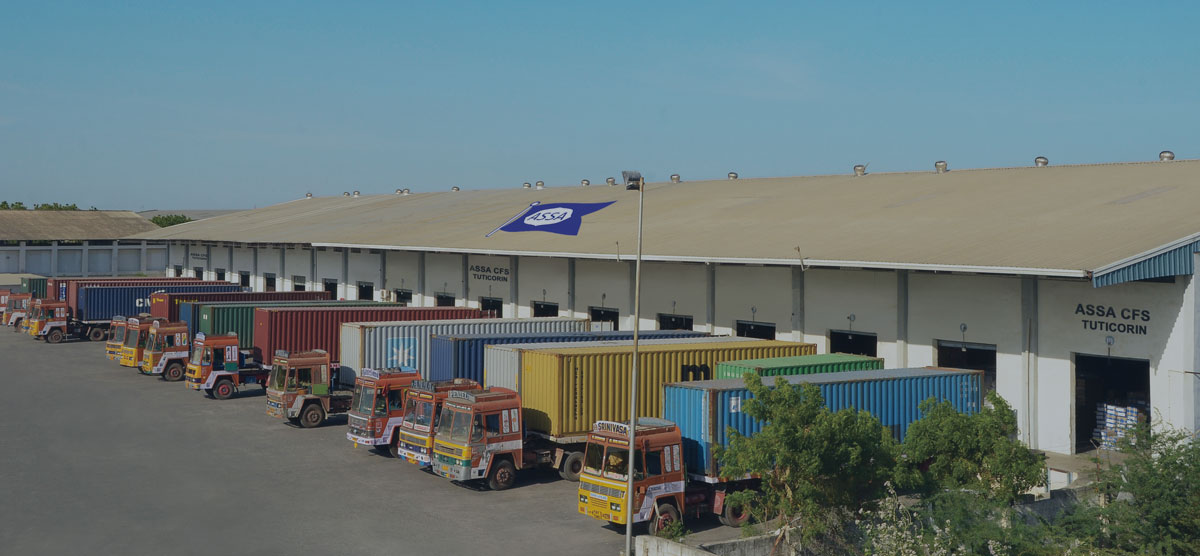 CFS TUTICORIN
A.S.Shipping Agencies has developed State of the art Container Freight Station in Tuticorin, strategically located 12 KMS from the VOC port on the Tuticorin – Tirunelveli highways, which is a unique representation of the end-to-end logistic solution. Our desire to meet all our Customer demands and our wish to serve more internationally acclaimed clients has evolved us into one of the fastest growing Container Freight Stations in Tuticorin.
Salient Features
Total Area of 11 Acres, Fully Cemented like an Airport.
Full-fledged Customs Office with 2 MBPS EDI connectivity for zero pilferage.
Adequate lighting with high mast lights to cover entire CFS.
Adequate parking facility for trailers and trucks.
Separate working area for CHA with 2 dedicated systems with internet connectivity.
Uninterrupted Power Supply with 250 KVA & 125 KVS Gensets.
Safety systems - Fire Hydrant System and Fire Extinguisher.
Modern Ventilated Warehouse equipped with CCTV Cameras & Burglar Alarms.
100 M.T (Avery) Electronic Weigh bridge.
Fully Trained / Skilled Security force 24 Hours.
Special expertise in Garment stuffing.
Warehouse Facilities
38,000 sq.ft of covered shed.
Additional 10,000 sq.ft of covered shed exclusive for export of coir products.
Multiple stuffing points with 4 dock levelers.
24x7 surveillance with 48 cameras covering all the warehouses.
Extended Arm
We are developing another 10 Acres of land adjacent to our CFS to cater to the rising EXIM demand.
Have developed another 15 acres of land which includes 1,00,000 sq.ft of General warehouse for agri-commodities and 10 acres of open space for handling timber logs and other general cargo just 1 kilometre from CFS.
Equipment List
40 Tons Rail Mounted Gantry to handle up to 7 High.
40 Tons INDITAL Reach Stacker for 5 High Stacking.
TIL 3 Reach Stacker - 40 Mt Capacity 5 high.
5 Nos. Forklift with capacity of 3 Tons.
Escort Mobile Cranes with capacity of 14 Tons.
16 FLT to Handle Granite Blocks.
Our Tariff